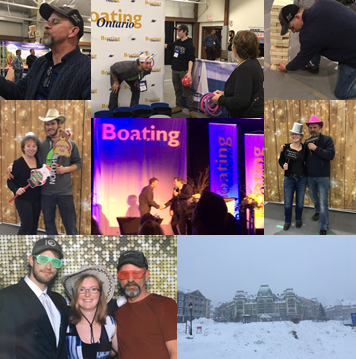 As we get closer to another weekend, we wanted to keep you up to date on ice conditions. They are very inconsistent from lake to lake. According to our trusted source for all things ice related, the back lakes range from open in spots, to 3″ in some spots and 11″ in other places, so our advice is steer clear for now. Temps haven't been consistently low enough to make the lakes reliable and we want to make sure everyone stays safe out there.

On another note, at the end of November we attended the annual Boating Ontario Conference. For the first time, we took some of the crew here with us and it was a great 3 days of networking, information sharing, and learning about the ongoing issues that our industry faces. The industry tradeshow on the first night, complete with dinner and activities was a great way to kick off the conference. This was followed by two days of excellent keynote speakers and informative workshops, and the event wrapped up with a formal President's dinner which recognizes individuals and businesses who are leaders in the Ontario marine industry. Thank you Boating Ontario for another great event!

Enjoy the rest of your week and play safe.