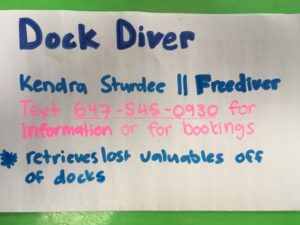 The sun is shining! Yesterday's weather wasn't the best for our parasailers and flyboarders, but we hope if you were out on an adventure with the ski-mazing crew that you enjoyed it, especially the extra special view of the lakes from the air.  Thank you to Craig and crew for another great day.
It is hard to believe that we are in to the middle of August already and have started the fall process of pulling boats.  Folks are already booking in for storage, and you are welcome to contact us anytime to reserve your spot or make arrangements for us to pick up your toys from your dock and get them safely in to storage.
Before you head home for back to school and all the fall things, we know that lots of items can magically disappear off of docks over the course of the summer. If you're missing your favourite hat, a pair of sunglasses, a chair, towels, or anything else, contact Kendra Sturdee. She is a certified diver and would love to help re-unite you with your long lost summer items!
Safe travels home tonight and have a great week!