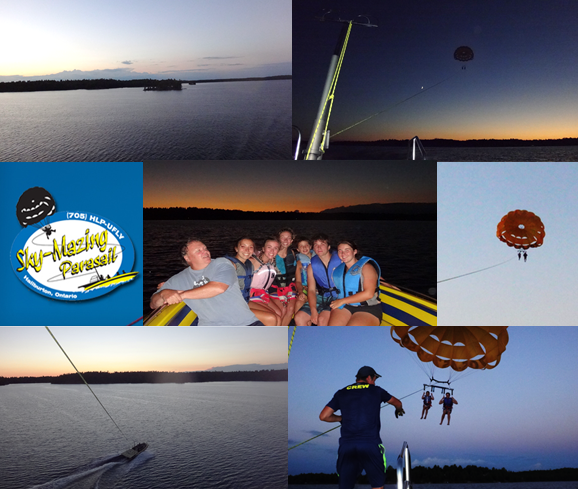 What an exciting week we've had!  We owe a huge thank you to Rick Asling for organizing another fantastic fireworks display last Saturday night.  Thank you also to all the local businesses and everyone who contributed to this great event – they were fabulous!
Yesterday, the crew from Ski-Mazing Parasailing came up and spent a day on Mississagua Lake taking cottagers up parasailing to see the lake from above.  They were busy all day and were kind enough to stay until 8 the kids who worked here yesterday got off at 8 so they could go for a ride! All of the photos above are from their ride. They had a blast and we've heard great reviews from other fliers today – hopefully this will also become an annual event!
Finally, and perhaps most importantly, despite the rain we had on Friday, the Fire Ban in still in effect!  "The open fire ban is expected to remain in place until significant rainfall occurs. Park users are not permitted to have campfires at this time.  Portable stoves that have a fuel source with a control valve may still be used for cooking and warmth. The public is asked to exercise extreme caution. Charcoal BBQs may not be used."
Stay safe and have a great week!