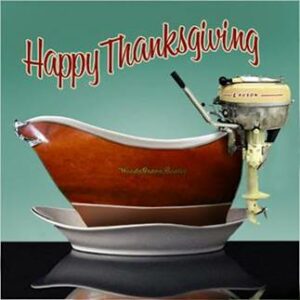 It was another awesome summer; we had such a great group working here and want to thank all of our crew.  They worked hard to provide excellent customer service to all of you.
Shawna-Marie and Luke have left our crew to explore other adventures and we wish them well after many, many great years here at Little Gull Marina.
The water has dropped fast again this year.  We are in the home stretch of bringing boats in for storage, so if you haven't made arrangements with us yet to pick up your toys, it is definitely time, especially for the larger IOs.  You can contact Michelle to make arrangements.  If you normally bring your boat in to us and are uneasy doing so, please don't hesitate to reach out.  We are happy to help get it here.
A special greeting at Thanksgiving time to express to you our sincere appreciation for your business and loyalty.
Our best wishes for a happy and healthy thanksgiving to you and your families.
Richard & Leah