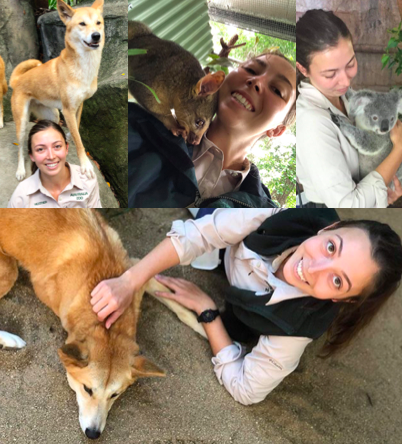 What a beautiful day!  But oh how the bugs are loving it because it is still soooo wet up here and the ground really soft.  The blackflies are rampant and the mosquitos have made their annual debut.  Looking for a less potent bug spray? Try a 50/50 mix of listerine and water.  If it's not working, make it a bit more potent.  We have a big spray bottle of it here in the shop to try and make life in bug world a bit more tolerable.
We don't have much new to report here, so we thought we'd give you an update from the other side of the world. Heather is doing really well in Australia. It is so hard to believe that she has been there for over 2 years. We had no doubt she would adapt and figure things out with ease, but she has exceeded all of our hopes!  After spending about a year and a half in Cairns, she moved to Brisbane where her and Ryan both got jobs at the Australia Zoo. Heather is working in the primarily with Native Australian Mammals (mostly Dingos) and sometimes gets to work in the Africa section. Ryan works with the reptiles, and even got to help transport a crocodile during filming of Crikey with the Irwin Family (the shows air on Thursdays at 9 on Animal Planet). We miss her but know she is having an incredible experience there and are grateful to have our nephew in the same country at least.
That's all for now!  Enjoy the sunshine.