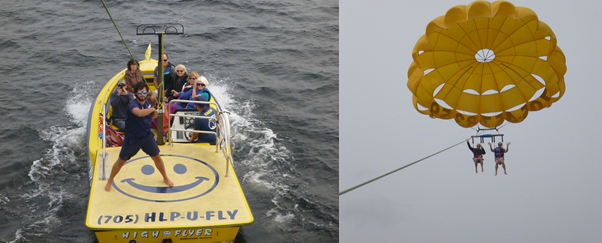 How is it the end of August already?  Time flies when you're having fun apparently.  This summer has come and gone in the blink of an eye and we have had some incredible weather for being out on and in the water! Even this week the heat a couple of days was very un-august-like. Today is reminding us that it is in fact August and summer is winding down.
We have already started picking up boats to get them ready for bed for the winter, and the lists are starting to form for Fall pick-ups and deliveries.  Be sure to call or email (michelle@littlegullmarina.ca) to hold a storage spot for your water toys, or to make arrangements to have them picked up and we will get that taken care of for you.
Kids and teacher are heading back to school in a few days for another year, and the lakes will surely get quieter over the coming weeks.  We want to wish Lauren all the best as she starts her university endeavours this year at Laurentian in the Nursing program.  We know she will do great and hope lots of fun is had as well 🙂
Finally, we want to send a huge thank you out to Rick Asling and all of the community businesses who made the fireworks this year the best they have ever been!  What a show!  It was great seeing so many boats out enjoying the display on such a beautiful evening.
Thank you also to Craig and his crew from Ski-Mazing Watersports for a fun-filled day of parasailing, jetavating and flyboarding. Despite some cooler weather, it was a blast and we hope they will visit us again next summer.
Have a great weekend!