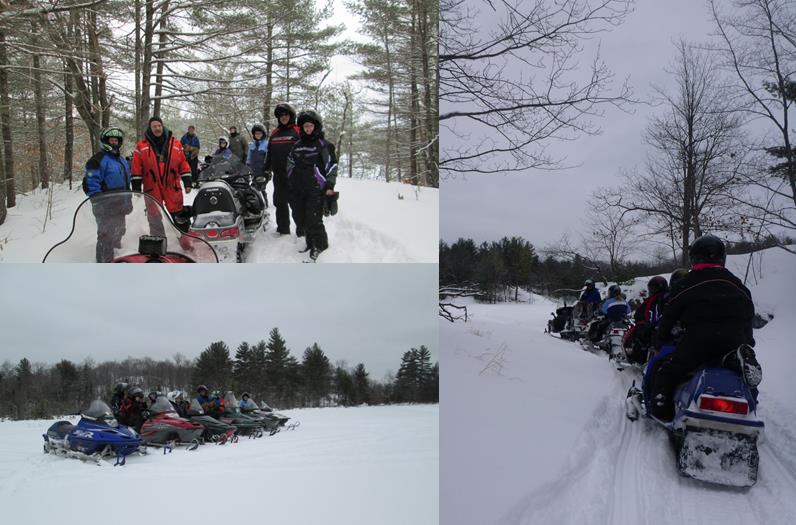 A month later and we finally have great conditions for snowmobiling!!  The trails are open and there are lots of people travelling the lakes.  The crew here even got out for a weekend ride last weekend! Please be aware that there are areas of very deep slush.  Mississagua Lake has been staked from the old Trapper's Inn bay.  The BDSC hosted its annual "Enjoy your Ride" Trail BBQ this past weekend at the 509 and E108 junction…it was a bit chilly and probably gave the BBQers a good test to see if they could keep the food warm!
We have been very busy not only with sleds but also getting started on boat repairs to help ensure a smooth start to the summer season that will be here before we know it.  If you have any requests for work to be done to your water toys, please let Sally know so that we can get everyone back in the water in a timely fashion.
Our hours for the rest of February and March are 9-4, seven days a week while the snowmobile trails are open.  Once they close, we will be closed again on Sundays.
If you aren't one for snowmobiling but want to get out and enjoy this beautiful, snowy season, the area has lots to offer with ski hills around us, lakes with permitted ice fishing (please check local regulations), community center activities and ice rink thanks to our wonderful volunteers who work tirelessly to keep it in such good condition, and lots of areas to explore via cross-country ski or snowshoe that are hard to get to during other times of the year.
Finally, the snow has gotten quite heavy and is piling up on roofs quickly.  Please contact us if you have any concerns and we can help you make arrangements to have someone clear your roof.
All the best and we look forward to seeing everyone out enjoying this great season!